Branching Ball Valves / Short Stem Ball Valves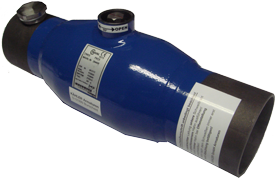 NAVAL Branching Ball Valves
The NAVAL Braching Ball Valves also named NAVAL Short Stem Ball Valves are suitable for District Heating (CHP) installations, heat transfer piping, oil lines and oxygen-free water lines. Available with full and reduced bore.
Construction
The valve has an all-welded body and is fitted with carbon-reinforced Teflon seals which are longlasting against frequent operation, impurities and chemicals. A ground and polished stainless steel ball gives easy turning and reliable operation over many years. A floating ball construction is used.
Bevel spring washers keep the seals pressed against the ball to ensure that the valve remains leak- tight regardless of pressure fluctuations.
The blow-out proof stem is sealed with 2 O-rings. In smaller valves, the upper one can be changed and in sizes 50 to 300 mm both can be changed.
The PTFE (Teflon) thrust washer between the stem shoulder and stemhousing also acts as a seal. Stem housings of 65 mm valves and above are fitted with stainless steel bearings.
Thereby the cover screw of the NAVAL Branching Ball Valve must not be welded. In this case you can operate the valve in an emergency. The NAVAL Branching Valves have a 90 degree ON-/OFF-Limit-Stop. Easy and solid actuation with the hexagon stem.
NAVAL Ball Valves are manufactured in accordance with European Pressure Equipment Directive 97/23/EY.
NAVAL Oy applies Module H as conformity assessment procedure (=full quality assurance) controlled by Det Norske Veritas as notified body.
NAVAL Oy has a certified quality system ISO 9001 and certified environmental management system ISO 14001.
Characteristics
The valve needs no servicing - no adjustment or lubrication - and is easy to install, giving a long working life with low running costs. It is easy to insulate because of the long, circular housing. Heavy and unreliable cast components are not used in the construction of the valve body. It is easy to retrofit actuating equipment.
Product informations